Conceived as a fund-raising opportunity by James Hathaway of Hathaway Communications, The Orvis Cover Dog Contest has raised raised over a million dollars for canine cancer research through Morris Animal Foundation.
The effort has had some big help along the way from Morris supporters Betty White and Jonathan Goldsmith, the actor known best for his role as Dos Equis' Most Interesting Man in the World (see videos, above).
How It Works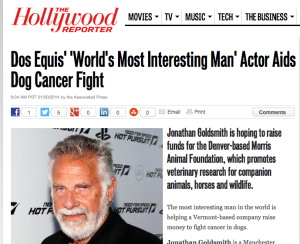 Three times a year the Orvis Company customers to send in pictures of their dogs in hopes of him or her being the next Orvis Cover Dog. Then they ask their families and friends to vote.Each vote costs a dollar and every penny goes to fund canine cancer research.
In addition to the funds raised, Morris Animal Foundation has gained thousands of new donors and the public relations win for Orvis has been substantial.
Hathaway Communications also handled PR for this effort in 2013 resulting in a major hit from the Associated Press and millions of readers learning of their good work.