[I have updated this post with content from the comments. The inventors have since reached their goal and will be shooting a documentary with the funding.]
There is an old joke that goes "Why is divorce so expensive? Because it's worth it."
The same thing goes for landmine clearance.
From time to time I see really bad ideas that well-meaning people have to clear landmines more cheaply than is being done currently. I posted a few months ago about a landmine detection app for the iPhone as just one example of a really bad idea.
Landmine clearance done to UN standards is a painfully meticulous process involving highly-trained professionals working in often grueling conditions. The work is tedious not just because it is dangerous. It is tedious because at the end of the day. the organization responsible for clearing the land is making a promise to the people soon to live there that the land is safe. No such promise can be made without adhering to internationally recognized standards. You can't cut corners on this stuff.
I have been seeing a LOT of a new entry into the Really Bad Idea For Clearing Landmines Department. It has been described as a tumbleweed with pressure plates. The device gets randomly blown around a minefield by the wind and detonates mines as it goes.
The Mine Kafon (teaser) from Callum Cooper on Vimeo.
It is a beautiful work of art, and no wonder, it was developed by the otherwise brilliant designer Massoud Hassani. It is lovely to look at, but in no way would I ever want my family to live on land that has been deemed safe by using by this device.
I have read many articles on this device and have even watched the Ted talk, but nowhere have I seen anyone voicing any skepticism or any  demining experts interviewed.
So here is some authoritative review since no one seems to be printing it:
An EOD unit in Holland, where the inventor of this tool lives, tested the Mine Kafon and claimed it was "not suitable for mine clearance".
Colin King who lead the first humanitarian mine clearance project in Afghanistan in the 1990's and is the author of  Jane's Mines & EOD Operational Guide, which  provides detailed operational information on the recognition and disposal of mines and explosive ordnance around the world, said "There are so many reasons why this device is hopeless that it's hard to know where to start." 
As I have said on this blog before before, real-life situations are  much different than the ideal lab or simulated environments where gizmos like  Hassani's invention are developed. This beautiful, bamboo gadget is ultimately dangerous and has no practical application in the real world.
King went on to say:
 [The Mine Kafon is] completely unsystematic, so you don't know where it has or hasn't been, let alone what it's done. It would also fail to set off many mines since – by their nature – the most problematic are hidden in ruts or potholes, around vegatation, edges of ditches etc. Minefields are not golf courses; if they were, clearance would be a whole lot easier. Different mines also respond to different pressures and pressure durations.
Matt Asher, author of the Probability and Statistics blog took it a step further and created a simulation of multiple Kafons working in a minefield under ideal conditions and still being ineffective:
With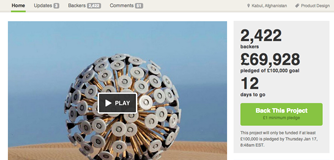 most of these devices, it is ok just to ignore the whole thing and it goes away. Now, though, the inventor (along with a filmmaker who gets a cut of the action) has started a Kickstarter campaign to raise money to help develop more of his large-scale toy (his words) for hopeful use in the field. So far he has raised nearly $115,000.00 towards his goal of NEARLY $165,000.00.
[Update: The inventors and filmmaker raised their target funding and will be shooting a documentary of their efforts with the Kickstarter money.]
I promise you, if you give money to developing this tool, it will never clear a single acre where people will live without injury or death from landmines as a result. If you want to give money to clear mines, give your money to one of the organizations, below.
Mines Advisory Group: "We work to tackle the destructive legacy of violence and conflict; to release land for food production; to increase safe access to vital resources like water, education and health services; and to build a better future for women, men and children alike."
HALO Trust: "HALO is the world's oldest and largest humanitarian landmine clearance organisation. For more than two decades, we have set the standard for the sector through technical innovation and robust management."